Brooms & Brushes
V7 - rewolucyjna ręczna szczotka gumowa
Rewolucyjna szczotka o opatentowanym kształcie włosa. Ta niezwykła szczotka gumowa produkcji niemieckiej posiada przekrój włosa w kształcie litery V. Kiedy zamiatamy w kierunku V, drobne cząstki, takie jak wióry, piasek, kurz itp. są bardziej skutecznie zmiecione niż tradycyjnymi szczotkami z okrągłym włosiem.
You can get this product on ... if you buy it now
You can get this product on

23.03.2023 (Thursday)

if you buy it now
You can get this product on

24.03.2023 (Friday)

if you buy it now
Miotełka V7 to niemiecki produkt, który zrewolucjonizował światowe rynki. Specjalny, opatentowany przekrój włosa w kształcie litery V rewelacyjnie wymiata i usuwa nawet najdrobniejsze cząstki kurzu skuteczniej niż tradycyjne szczotki z okrągłym włosiem. Zamiatać należy w kierunku V pamiętając przy tym, aby nie używać zbyt dużego nacisku. Lżejsze przesuwanie szczotki po powierzchni zwiększa efektywność zamiatania!
Szczotka ma właściwości statyczne, dzięki czemu podczas zamiatania sierść i kurz w kontrolowany sposób zbiera się w kupki i roluje, a nie fruwa po całym domu.


Rączka obraca się o 360 stopni.
Dodatkowym udogodnieniem jest obrotowa rączka, którą można regulować w zakresie od 0o do 90o. Dzięki temu z łatwością dopasujesz ją do swoich przyzwyczajeń i aktualnych potrzeb.





Nawet do szczotkowania psów.
Szczotka jest idealna również do pielęgnacji sierści naszych pupili – wyczesania martwych włosów z sierści psa, jak i przyjemnego masażu. Sierść Twojego psa po takim szczotkowaniu będzie z pewnością bardziej lśniąca. Pamiętaj, aby szczotkując psa trzymać szczotkę w kierunku odwrotnym niż przy czyszczeniu powierzchni – czubkiem V wzdłuż sierści.





Idealnie zbiera płyny.
Kształt gumowego włosia sprawia, że szczotka jest wprost stworzona do zgarniania wody czy innych płynów. Dodatkowo szczotka posiada wbudowaną wycieraczkę, dzięki której można usunąć wodę z płaskich powierzchni niemal do sucha!





Niezastąpiona do usuwania sierści.
Za pomocą szczotki szybko i skutecznie usuniesz sierść i najdrobniejsze pyłki osiadające na dywanach, meblach tapicerowanych czy siedzeniach samochodowych. Dodatkowo szczotka podnosi włos materiału, co odświeża, nadaje efekt miękkości i puszystości czyszczonego materiału.





Niezastąpiona w samochodzie.
Szybko i solidnie usuwa sierść psa z tapicerki samochodowej i z bagażnika. Ponadto szczotkę można używać do odśnieżania samochodu, ponieważ jej miękkie włosie nie zarysuje szyb ani lakieru. Dzięki specjalnym komponentom guma, z jakiej wykonane jest włosie, nie sztywnieje i spełnia swoje zadanie w temperaturze od -20o do 100oC.





Dokładna nawet w zakamarkach.
Dłuższe przednie włosy są umieszczone pod kątem 20o­­­, co ułatwia wymiecenie brudu z kątów czy narożników schodów. Żadna tradycyjna miotełka nie sprosta takim wyzwaniom.



Czyszczenie szczotki jest bardzo proste. Jeśli się zakurzy albo zabrudzi wystarczy opłukać ją pod bieżącą wodą lub przy użyciu detergentów.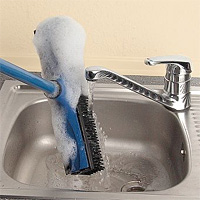 Sposób użycia:
Szczotki nie należy przechylać w stosunku to czyszczonej powierzchni, tylko prowadzić ją prostopadle, aby igły typu V stawiały największy opór.
Szczotki nie należy dociskać mocno do czyszczonej powierzchni tak, aby igły nie wyginały się np. w łuk.
Najważniejsze: należy czyścić krótkimi posuwistymi ruchami (po 3-5cm), wtedy najskuteczniej wyciąga włos/sierść, wręcz wydrapując ją z czyszczonej/zbieranej powierzchni.
Przy prawidłowym użyciu będą Państwo zaskoczeni jej skutecznością.
Wymiary:
Szerokość: 4,5cm
Długość: 16,5cm
Długość rączki: 15cm
More Information

| | |
| --- | --- |
| Product Code | V7-SR-BL- |
| EAN | 5902194208086 |
| Brand | V7 |