Small Animal
FURminator dla małych zwierząt np. króliki, fretki z przyciskiem FURejector
Oryginalny, amerykański FURminator do usuwania podszerstka. Sprawia, że proces wyczesywania jest mniej kłopotliwy, a sierść zwierzęcia wygląda zdrowo i ładnie.
You can get this product on ... if you buy it now
You can get this product on

06.12.2021 (Monday)

if you buy it now
You can get this product on

07.12.2021 (Tuesday)

if you buy it now
Oryginalny, amerykański FURminator do usuwania podszerstka z przyciskiem FURejector. Sprawia, że proces wyczesywania jest mniej kłopotliwy, a sierść zwierzęcia wygląda zdrowo i ładnie. Dedykowany dla małych zwierząt np.: króliki, fretki.
Angie Porter, specjalistka w dziedzinie groomingu wspólnie ze swoim mężem Davidem zaprojektowała pierwsze i jedyne narzędzie, które pozwala skutecznie i wygodnie usuwać podszerstek i martwy włos, jednocześnie ograniczając linienie zwierząt. To narzędzie to FURminator® deShedding Tool – 10 lat ciężkiej pracy i najpopularniejsze, najbardziej poszukiwane i lubiane przez posiadaczy zwierząt rozwiązanie na rynku.
Doskonałej jakości asortyment sprawia, że marka FURminator® nie potrzebuje reklamy. Produkty wykonane są z najlepszej jakości materiałów, więc groomerzy i właściciele zwierząt na całym świecie chętnie je kupują.
Zalety:
redukuje ilość sierści pozostawianej w domu nawet do 99%
usuwa sierść i nadmiar podszerstka lepiej niż szczotka, grzebień lub zgrzebło!
pomaga odbudować skórę i wzmacnia mieszki włosowe
zaprojektowane, aby zapewnić wygodę i bezpieczeństwo użytkowania
stymuluje naturalną produkcję łoju, chroniąc skórę i zapewniając lśniącą i zdrową sierść
czas poświęcony na zabieg to również moment dokładnego przyjrzenia się zwierzęciu i skontrolowania jego stanu zdrowia
regularne stosowanie pozwala na wspólne spędzenie czasu i zaciśnięcie więzi pomiędzy zwierzęciem a opiekunem
Cechy produktu:
stalowe ostrze zaprojektowane przez profesjonalnego groomera, aby zapewnić skuteczne i bezpieczne wyczesywanie podszerstka
przycisk FURejector - pozwala z łatwością usunąć sierść z narzędzia podczas jego używania
specjalnie zaprojektowane rozwiązanie SkinGuard pozwala na bezpiecznie ślizganie się narzędzia po skórze bez zahaczania
nasadka EdgeGurad chroni ząbki podczas przechowywania narzędzia
ergonomiczny i antypoślizgowy uchwyt - zapewnia komfort i łatwość stosowania
niezwykle skuteczny! Polecany przez groomerów i weterynarzy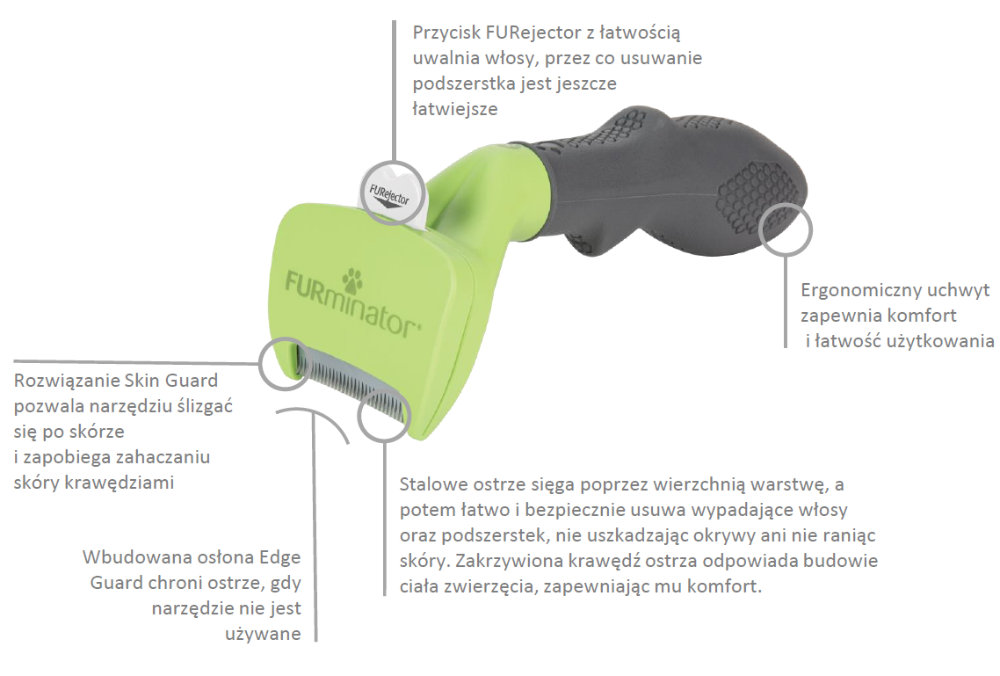 Sposób użycia:
Przed zastosowaniem narzędzia do usuwania podszerstka należy dokładnie przeczytać instrukcję obsługi. Narzędzie FURminator zaleca się stosować 1-2 razy w tygodniu, nie dłużej niż przez 10-20 minut. Jednakże czas wyczesywania może się różnić, w zależności od kondycji, grubości sierści czy rasy danego osobnika. Częstsze korzystanie z narzędzia do wyczesywania podszerstka może okazać się niezbędne podczas okresu linienia.
Aby prawidłowo i skutecznie użyć FURminatora postępuj zgodnie z następującymi krokami:
KROK 1: przed rozpoczęciem zabiegu dokładnie obejrzyj swojego pupila w poszukiwaniu siniaków, zranień czy innych problemów skórnych. Następnie wyszczotkuj sierść zwracając szczególna uwagę na rozplatanie kołtunów. Używanie narzędzia na splątanych włosach może doprowadzić do jego uszkodzenia, poprzez wyłamanie ząbków.
KROK 2: przystąp do wyczesywania podszerstka: przesuwaj delikatnie narzędziem po sierści zwierzęcia zgodnie z kierunkiem wzrostu włosa, zaczynając od karku i stopniowo przesuwając się w kierunku ogona. Wykonuj długie i łagodne pociągnięcia, jak przy czesaniu szczotką. Pomimo, że funkcja SkinGuard zapobiega wbijaniu się ząbków narzędzia w skórę, zbyt głębokie lub mocne czesanie może doprowadzić do podrażnienia, zwłaszcza pracując w okolicach brzucha, nóg czy miejsc intymnych zwierzaka.
KROK 3: regularnie usuwaj nadmiar włosów za pomocą przycisku FURejector.
KROK 4: po zakończeniu pracy pamiętaj o zabezpieczeniu ząbków FURminatora nakładką EgeGuard.
Jak dbać o FURminator:
Aby jak najdłużej utrzymać narzędzie w dobrej kondycji trzymaj się następujących zasad:
pamiętaj o wyczesaniu zwierzęcia przed zabiegiem usuwania podszerstka. Praca z narzędziem na splątanych włosach może spowodować wyłamanie się ząbków wyczesujących
uważaj, aby nie upuścić narzędzia. Upadek na Twardą powierzchnię może skutkować jego uszkodzeniem
narzędzie czyścić za pomocą ciepłej wody z delikatnym detergentem. Należy zwrócić uwagę na zabrudzenia znajdujące się pomiędzy poszczególnymi ząbkami. W razie potrzeby można je wyczyścić za pomocą miękkiej szczoteczki. Przed schowaniem, narzędzie musi być całkowicie suche
narzędzie posiada zabezpieczenie EdgeGuard na całej długości ostrza, aby zabezpieczyć je przed przypadkowym uszkodzeniem w trakcie przechowywania. Aby to zrobić, postępuj, jak na obrazku poniżej: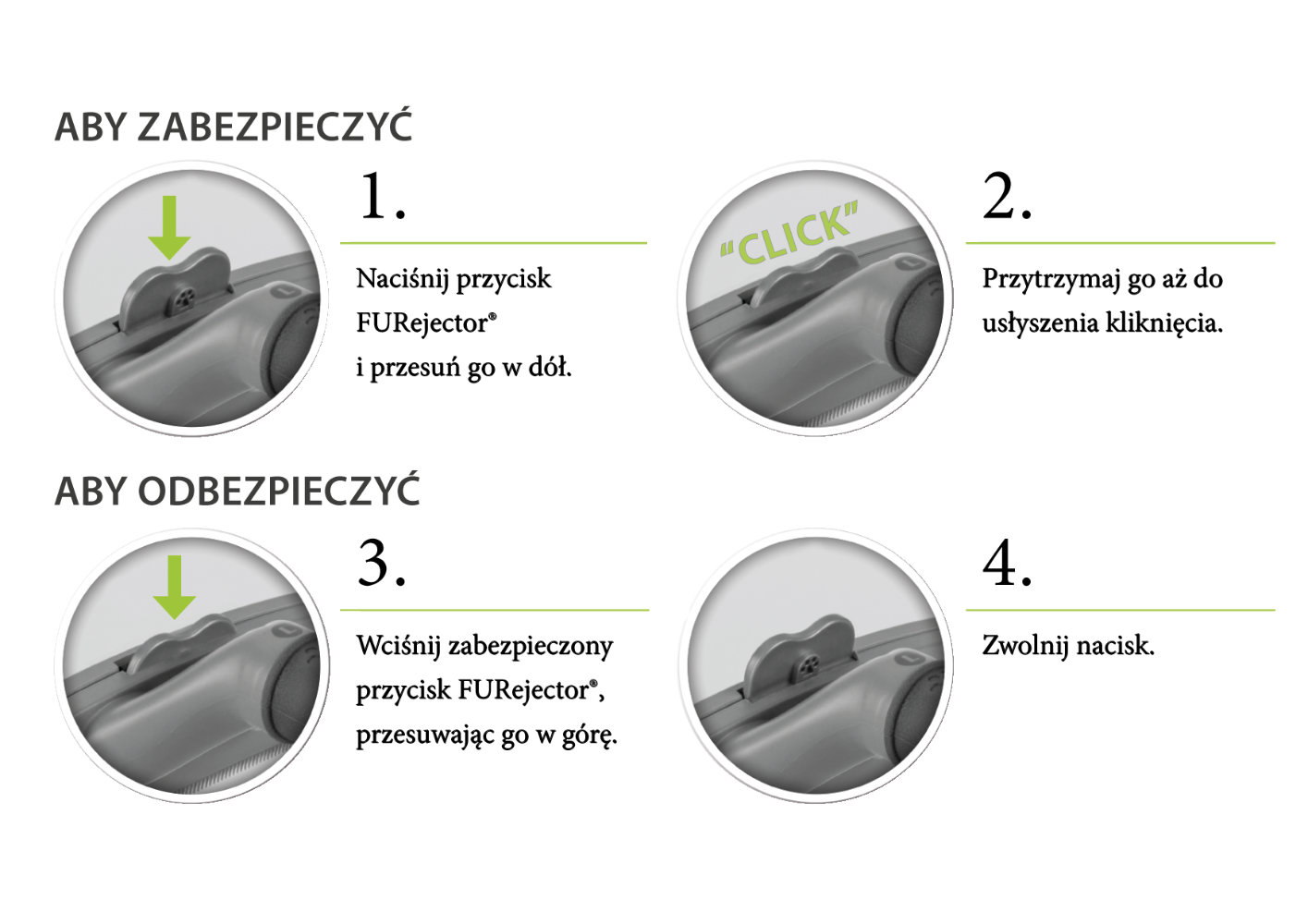 More Information

| | |
| --- | --- |
| Kod produktu | FUR-144304 |
| Kod EAN | 4048422144304 |
| Marka | Furminator |